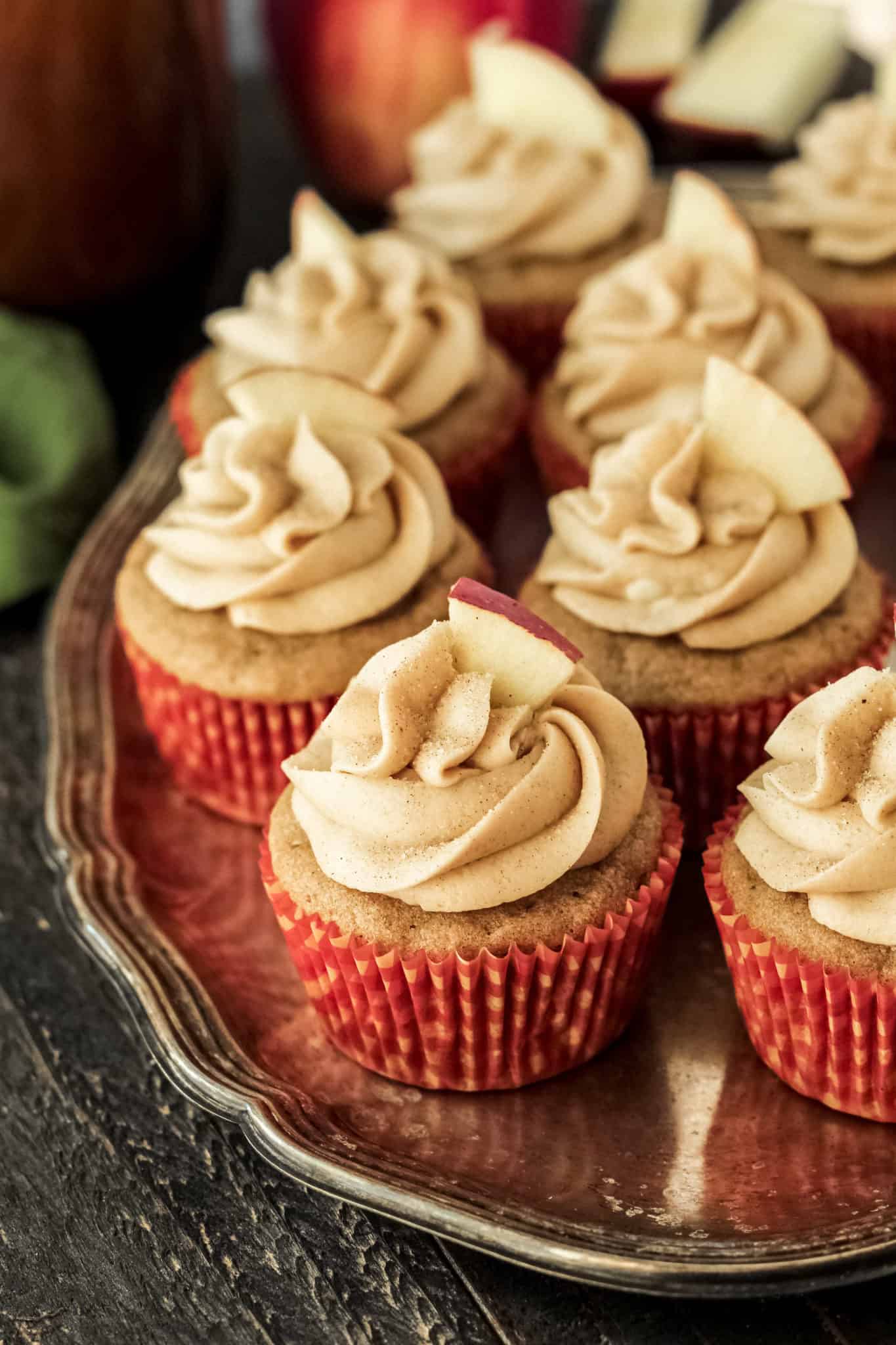 Filled with apple cider flavor, applesauce, spices and a little brown sugar, these Apple Cider Cupcakes are extra moist and the perfect sweet treat for Fall. Made a little healthier than your average cupcake, these cupcakes are whole grain, gluten-free, and made with less sugar. Topped with a homemade Spiced Buttercream Frosting, these cupcakes are still plenty sweet and decadent enough for all to enjoy!
INGREDIENTS
Cupcakes
1 1/3 cup oat flour or regular flour
1 tsp baking powder
1/4 tsp salt
1 1/2 tsp cinnamon
1/2 tsp nutmeg
1/4 tsp allspice
pinch of cloves
1/4 cup butter, melted (coconut oil or dairy-free butter alternative)
1/2 cup brown sugar
1/2 cup + 2 tbsp applesauce 
1/2 cup apple cider
1 tsp vanilla
2 eggs
Spiced Buttercream Frosting
1/2 cup butter, softened
1-2 tbsp water, milk or more apple cider
1 tsp vanilla
1/2 tsp cinnamon
pinch of nutmeg
2 cups powdered sugar
INSTRUCTIONS
Apple Cider Cupcakes
In a small mixing bowl, combine your dry ingredients: oat flour, baking powder, salt, cinnamon, nutmeg, allspice and cloves and stir them together.
In a large mixing bowl, cream your butter and brown sugar together with a mixer. Add your applesauce, apple cider, and vanilla and mix again till all is well combined. Add your eggs and briefly mix them in.
Add your dry ingredients to your wet ingredients and stir together till you have one smooth cupcake batter.
Preheat your oven to 350 (if using oat flour, this gives the flour a chance to soak up the dry ingredients). Line a cupcake pan with cupcake liners and spray them with non-stick spray. 
Once your oven is heated, fill your cupcake liners about 3/4 way full. Bake for 18-22 minutes, or till the tops are springy to touch and a toothpick comes out clean.
Spiced Buttercream
In a large mixing bowl, combine your butter, 1 tbsp of apple cider, vanilla, cinnamon and nutmeg and blend together well, with a hand mixer.
Add 1 cup of powdered sugar to your bowl and mix well, with a hand mixer. Add another cup of powdered sugar to your bowl and blend together again. Beat for a minute or two, or till the frosting is nice and fluffy. *If your frosting is too thick add another tablespoon of apple cider, till it reaches the consistency you would like. 
After your cupcakes have cooled, frost them (and maybe add sprinkles or cinnamon sugar on top too!). Devour!